Facts About the Foundation
Our funding comes from local Churches, like-minded individuals, donated property to the foundation and our endowment fund.
We know the need is great and we know the immense impact a permanent building has on the growth of a young Church. A Church owning its own facility is one of the most important tools for that ministry and its growth. It gives that Church a permanent presence in the community.
How the Foundation Works
The ministry board meets in January and July of each year. At these annual meetings we review the applications that have been received during the year. We then make our decisions as to who will be approved for grants based on established criteria and references.
Applications are available online (see below).
No one receives any salary or pay for their time spent on this ministry. We do reimburse board members for any expenses incurred in connection with the ministry.
Our desire is that everything is done to the honor and glory of our Lord.
History
It all began in 1984 when Jim and Lois Bosse purchased a vacant shopping center. Jim (Founder) set about to improve the property and make it available for commercial rentals. He and Lois then deeded the property over to the Jehovah Jireh Foundation and it continues to produce income from the leases.
Our work began in 1990 when we were led to support a young minister with a heart to plant a Church in the inner city of Baltimore, Maryland. Over the next ten years the Lord led us to many Church planting projects and provided many opportunities for us to be used in this ministry. The vision of setting up a ministry in which to contribute the majority of our assets for assisting the building of Churches began to form.
In 2000 we moved to Florida where Jim discussed ideas and thoughts with others. There the Jehovah-Jireh Foundation was incorporated and within a few weeks of applying received its 501(c)(3) tax exempt status. (The rarity of receiving this status so promptly was one of many blessings to come.)
Our first organizational meeting of the Jehovah-Jireh Foundation was held April 30th and May 1st, 2001 with six board members present. The Foundation made its first grants in January of 2002 to 10 approved Churches and has over the years had the blessing of approving hundreds of grants seeing many souls saved through these Churches. We funded this ministry with finances the Lord provided to us through the gift of real estate from Jim and Lois Bosse.
At our January 2004 meeting, more members were added to the board. We give thanks and praise to God for providing men for this ministry who have a vision to see Jehovah-Jireh Foundation grow into a worldwide outreach helping to bring the Word of God to the lost. We place our trust entirely in God's grace that the glory and praise may be His.
We continue to manage the commercial properties, and by God's grace it is our vision to build an endowment fund through like-minded Christians that will perpetually generate funds for many years to come to help in Church planting projects.
The Mission to Build the Church
When God's people advance the vibrant, biblical ministry of the local church, lives are transformed. And for over 20 years, the Jehovah-Jireh Foundation has been privileged to help small, local bodies of believers put down permanent roots to shine the light of the Gospel in the communities where God has placed them. Watch this video to learn more about the history and mission of Jehovah-Jireh Foundation!
Our Team
Seven members make up The Jehovah-Jireh Foundation Board – a group of men united in vision to steward the resources God provides to build His Church and fulfill the Great Commission. Meeting bi-annually to review and approve grants, they share a heart for helping small congregations make a big impact for Jesus Christ.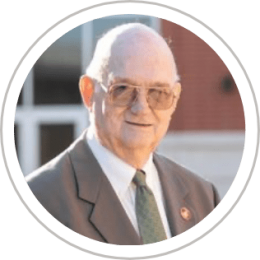 James F. Bosse
Founder
Mid-Atlantic Region & Founder
jjirfdn01@gmail.com
410-960-2390
Pastor Lou Rossi
President
Mid-Atlantic Region
evangelistrossi@me.com
615-289-3680
Pastor Dr. Craig Bennett
Vice President
Southern Region
bennettgraig@bellsouth.net
678-267-2728
Pastor Rick Wilder
Treasurer
Northwest Region
pastor@olympiabiblebaptist.org
360-570-9876
Pastor Tim Jackson
Midwest Region
pastortimjackson@gmail.com
517-410-7001
Pastor Dale Montgomery
Dr. David C. Gibbs, Jr.
Pastor Dave Hardy
Pastor Rick MacQueen
Pastor Preston Hoiseth
Pastor Steve Schwanke
Pastor Ted Patterson
Pastor Tim Rabon
Pastor Richard Rossiter